The response to a disaster invariably moves in phases. Whether a tornado, hurricane, earthquake, flood, wildfire… each has several distinct steps that follow one another as sure as the Sun rises in the east every morning. They are:
Preparation. Response. Recovery. Mitigation. 
Preparation for Hurricane Sandy here in New York City was given a boost, especially after last year's Hurricane Irene targeted the area. Many plans were established here and given a workout as that storm threatened the city. The fact that Irene's impact wasn't as large as expected, many residents believed that the warnings were overblown, and they stayed in their vulnerable homes.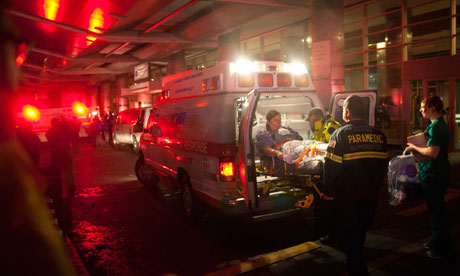 The city's response to the effort was massive. You are talking about the largest city in the United States - with a population of more than eight million inside the city alone - a Herculean undertaking. Again, going through the requests for resources quickly point out how enormous the undertaking was. 
The city is now transitioning from response to recovery. We are still sending generators, National Guard troops, light towers, cranes and other resources into the field for response, but the office has also sent items into the field to create disaster relief centers. It's amazing to see just how quickly these facilities can be set up - one on Staten Island was totally rebuilt in about a day, including paint, carpet, restrooms and showers for residents to use. 
The real challenge for New York City is going to be mitigation. How do you plan for future events with an impact like Sandy? You can't move the enormous population away from the coastline - there is no place to move them. You can't easily make the subways and tunnels waterproof - they are below ground level. How do you rebuild many historical structures to remove the threat of surge flooding? 
Let's just say they have their work cut out for them. 
By the way, for those who are reading this and wondering what the fuss is about with this storm - after all, it was only a category 1 storm when it made landfall - these images are for you. 
The threat is real and serious - regardless of the strength of the system. Know your risks. Have a plan. Be prepared.