Pinellas County Emergency Management
Nov 29
[video]
Nov 21
Home
In the Wizard of Oz, Dorothy Gale clicked the heels of her ruby slippers together and repeated the line, "There's no place like home," to get back to her farmhouse in Kansas.  All our team had to do was make it to JFK airport in New York to make the trip.
The flight was uneventful, and, as we flew back, I'm sure that each member of the team tried to process in his or her own way. There's no way to be working in an environment like that without doing a tremendous amount of introspection. Are our emergency plans good enough? Do we have good enough plans for our families? 
The wheels of our jet touched down just a few minutes before six p.m. and, from there it was a quick few steps from the airside at the airport to the main terminal, where the greeting home was overwhelming.
After the hugs, high fives and a few tears, we gathered the team together to hold a brief news conference. To our friends in the New York City Office of Emergency Management, we had nothing but praise for your strength, resilience and professionalism. We reminded our residents that even though the impact from Hurricane Sandy has fallen off the front pages of newspapers and moved later into the newscasts, that the needs you guys have are as important and urgent as ever.
And, we also promised that we would take the evidence of what you are going through to help educate our residents across the Tampa Bay area. The threat from hurricanes is real, and we have to keep everyone here ready should the worst happen.
Emergency Managers return from NYC area (Bay News 9)
Bay Area Emergency Management finish response to Sandy (WTSP CBS 10)
Emergency Managers return from New York (WFTS Fox 13)
Nov 20
NYC relief: Day 12 - A special thanks
While this blog has been mostly the observations of me, Tom Iovino, the Tampa Bay contingent was comprised of some of the best emergency management experts in the region. Before we go any further, here's a run down of the team members:
Pete McNally, Director of Polk County Emergency Management
Billy Abernathy, Polk County Emergency Management
Doug Blackwell, Pinellas County Emergency Management
Jeremy Edwards, Pasco County GIS
Andrew Fossa, Pasco County Fire Rescue
Greg Lindgren, Pasco County Emergency Management
Patricia Lowther, New Port Richey Public Works
George Merceron, Pasco County Health Department
Doug Meyer, Pinellas County Emergency Management
Tim Reardon, Pasco County Fire Rescue
Judy Tear, Citrus County Health Department
Floyd Wilson, Pasco County Public Works
Paul Womble, Polk County Emergency Management
Today, we leave JFK en route to Tampa. For us, the deployment will be over, but for the Texas team and the folks in NYC who are still working the situation - and the millions of other New Yorkers who are recovering from this storm - the recovery continues.
As we get ready for this year's Thanksgiving holiday, be sure to keep the folks who are still recovering from Hurricane Sandy in your thoughts.
We'll see you back in Florida.
Nov 19
New York City relief: Day 11
The last work day here at Logistics for the Tampa Bay team, and there's as much to do as ever. Three nursing homes have to be established in new locations, generators need to be maintained and refueled, and any one of thousands of other jobs that need to be herded along to completion.
But, just as we were thrown into the deep end at logistics ten days ago, the team from Texas has survived their first few days and are starting to hit their stride. Their crew is very interesting. Unlike Boston or the Tampa Bay area, their team is sourced from across the second-largest state - quite the monumental undertaking.
They have slid right in, and have taken to the work very quickly. This is a good thing because - as of tomorrow morning - the effort shifts to them.
During our time here in logistics, we have had the honor of working with some outstanding folks who have performed unbelievably well in the face of tremendous pressure. The New York City Office of Emergency staff has been nothing but outstanding and welcoming to us.
Our boss Henry. Gary, the fuel czar. Eric the IT whiz and vocal Jets fan. Rob, the Americorps volunteer who tracked light towers (and put up with a lot of joshing about getting a hair cut). Louie from Transportation (who will be holding the Charlie Brown balloon in this Thursday's Macy's Thanksgiving Day Parade). Johanna, Kristine, Nandy, Kumarie, EZ… I'm afraid to keep mentioning names of folks at the city for fear of forgetting someone. Please accept our thanks for your hospitality and leadership.
As we rolled off our last shift, the New York City staff let us know how much they appreciated our time here. Sure, it took a day or two to get into the flow of things, but we worked shoulder to shoulder with them, giving them some time off, swapping some tall tales and getting advice on how to get around on the subways.
Our crew also passed the hat to collect for a special gift of Florida sunshine to arrive at the logistics center - just in time for Thanksgiving. Hopefully, they will appreciate the gift as they work their long shifts until the job is done. After all, the recovery continues, even though we are leaving.
Time to pack out and get ready for travel tomorrow…
News Release: Mutual aid team returns home from New York
Immediate Release
Nov. 19, 2012

A team of emergency managers deployed to New York City to assist in the relief effort in response to Hurricane Sandy is returning home on Tuesday, Nov. 20. The 14-member team, which has been in NYC since Friday, Nov. 9, will arrive home via JetBlue Airways at 6:05 p.m. on Tuesday at airside A in Tampa International Airport.
From Pinellas County, team members include Public Information Specialist Tom Iovino along with emergency management coordinators Doug Meyer and Doug Blackwell. Also on the team are emergency management personnel from Polk, Pasco and Citrus counties.
Iovino has been keeping a daily blog of the team's activities at http://pinellasem.tumblr.com
"The city is now transitioning from response to recovery," writes Iovino on day six of their deployment. "We are still sending generators, National Guard troops, light towers, cranes and other resources into the field for response, but the office has also sent items into the field to create disaster relief centers. It's amazing to see just how quickly these facilities can be set up.  One on Staten Island was totally rebuilt in about a day, including paint, carpet, restrooms and showers for residents to use."
The storm, which made landfall on Oct. 29, has become the second costliest hurricane in American history – passing 2008's Hurricane Ike. The difficult situation was compounded by a nor'easter, which dumped additional rain and snow on the New York City metropolitan area.
For more information on Pinellas County services and programs, visit www.pinellascounty.org, now with LiveChat, or create a shortcut to www.pinellascounty.org/mobile on any smartphone. Pinellas County government is on Facebook, Twitter and YouTube. Pinellas County complies with the Americans with Disabilities Act.
Nov 18
New York City relief: Day 10
Have you ever tried to untangle a ball of string?  You pull on one free end, but that just tightens the knots within the big mass. After a while of pulling, tugging and trying to figure out the best way to go, you pretty much want to chuck the whole mess.
That's what trying to pull equipment and supplies out of the city is starting to look like. This entire logistics operation is the most intricate dance you have ever seen, and when one item moves, it affects everything in the process.
For example - today, I have been crowned Captain Port-A-Potty for the logistics team. It's part of the overall tracking operation. With plumbing facilities out in so many homes, these portable convenience locations have become a critical part of operations in the field, and they be found just about everywhere there was storm damage.
After Sandy blew through and did its damage, the city put out a call to four vendors to deliver these facilities as quickly as possible to the affected areas. And, if it was left at that, finding those locations would be relatively easy.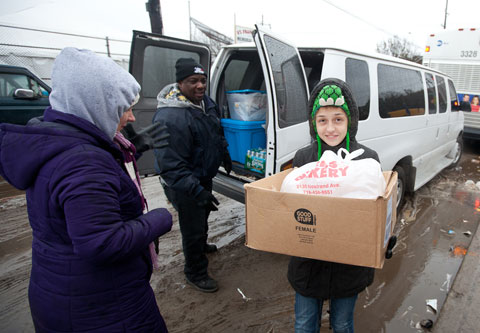 But that's only part of the picture. After all, many of these locations are also relief centers where people can pick up food, water and other supplies - or at recovery centers - where survivors can speak one on one with insurance adjusters, FEMA assistance personnel, representatives with the local utilities, etc. So, many of these places also need portable light towers, fuel, generators, tents, work trailers, police presence - the works. Each of these units also has to be serviced on a regular basis - as you might imagine.
Add in the fact that many people in an effort to be helpful have moved some of  the deployed units from the areas they were sited to other more heavily impacted areas. While well-intended, this does add to the degree of difficulty in tracking, servicing and eventually retrieving these units.
But, hey, that's life - and making life easier for storm survivors is what we are all about.
Or, as they say around the warehouse here in Brooklyn - faggetaboutit.
Nov 17
[video]
New York City relief: Day nine
Today is a day of transitions here in the logistics center. Last night the crew from Boston packed up and headed out for a last dinner in the city. They got on the road back home in the early morning hours today.  After working with them for the past week, they became part of the family here. There was a funny exchange of tokens of appreciation between NYC and Boston - and a round of applause for their efforts.
This morning, a team from Texas arrived to begin their orientation here at Logistics. Pulled from agencies across the state, they come to the city with a lot of experience dealing with natural disasters - most notably Hurricane Ike in 2008. They got the same briefing we got more than a week ago, and are sitting through the same training video we saw.
After more than a week here, I have to wonder if the folks who saw us come in that first day wondered what our team was going to be like.
One thing is for certain - the Texas team is walking into a very different situation than we did. When we arrived, assets were being pushed into the field rapidly. "Just make it happen," was the expression I heard several times as affected residents were still wandering the streets trying to take in the scope of the damage.
Now, we're starting the process known as demobilization - also known as Demob. Basically, it's time to find those items we pushed out into the streets and pull them back. For instance - when the power was out in those first days, these large light towers were sent out with the New York City police and fire departments. They were set up at intersections and in neighborhoods which needed illumination in those dark nights.
Now that Consolidated Edison (ConEd) has restored power to many of these neighborhoods, it's time to have them picked up. Sometimes, it's a piece of cake. Other times, well, it's kind of like trying to find the proverbial needle in the urban haystack. As power was restored, well meaning officials moved them to the next neighborhood without notifying logistics about the new location. I'm convinced  that some time in 2018, someone will find a relic of the Hurricane Sandy equipment deployment in someone's backyard, lighting their summer barbecue.
While the emergency phase of Hurricane Sandy is ramping down, the effort to rebuild is just beginning.
Nov 16
New York City relief: Day eight
One week. It's been one week since our group left Tampa International Airport bound for New York City. When we left, we had only an incomplete idea of how bad things were up here.  Now, we have the stories and photos to back up what we had suspected all along… this storm was devastating.
I spoke with a guy who works for the city's department of transportation. He and his crew were out on Staten Island doing debris removal. It also turns out that the neighborhood he was working in was where he and his wife were looking for a home for their young family. They had settled on an area with newer, well manicured homes. In fact, he was able to show me a picture of the home from a real estate website.
Nice place, right?  Well, after a few hours of work, he ended up in this same neighborhood. He didn't realize it for a while, because the damage was so extensive. But, after a while, he determined that he was at the same house. And, here's what it looked like.
This is how all of the homes in that neighborhood looked. The damage was surreal, with piles of debris taller than the truck he was driving. Totaled cars littered the streets, which had to be pushed out of the way to make room for the rescue vehicles. And, the stories of the survivors were enough to send shivers up the spine of a tough New Yorker.
One resident described how he was stuck in a second floor room of his house - with water already pouring through the window. He saw his neighbor's house floating down the street in front of his home, close enough to leap on to. So, he grabbed his family and they made the jump. As they were drifting down the street, the house they were in less than a minute before collapsed, which would have been fatal. 
Stories like this were all too common. It will take a long time for people to recover from this.
While life - and news - moves on, it's important that we not lose sight of the massive rebuilding effort that will be required. As we sit down to Thanksgiving dinner this year, let's remember the folks here who are recovering and those assisting with that recovery.
Click here for a list of organizations that are helping with the Hurricane Sandy relief effort. 
Nov 15
New York City relief: Day seven
When a disaster the magnitude of Hurricane Sandy happens in a densely-populated area like New York City, additional resources are needed quickly to begin the response and relief efforts as quickly as possible.
The city's emergency managers were able to bring personnel and materiel in quickly from around the country using the EMAC system. EMAC - the Emergency Management Assistance Compact - is an interstate agreement that allows for the rapid deployment of response teams from all corners of the country. Louisiana, Maine, Ohio, Arizona, Texas and many others are well represented on the ground, along with Florida, of course.
Here at Logistics, we've been working shoulder to shoulder with representatives from the cities of Boston and New York. I had a chance to sit down with one of the members of the Boston contingent to find out what the deployment is like for her.
I spoke with Christine Invencion, an IT Business Analyst with the Boston Centers for Youth and Families (BCYF). This team came to New York thinking they were going to be working in shelters, serving meals and assisting evacuees - a task that BCYF performs for the City of Boston during times of emergency. Upon arriving in NYC however, they discovered there was a manpower need in the NYC OEM Logistics Center and soon found their expertise redirected to the mobilization effort. "I didn't even bring my laptop with me, but I was happy to be brought over for the logistics team doing what I'm best at." Her expertise with data was put to the task as she built a master database of equipment deployed to the field. "I'm proud of that database. It's going to make it easier for the city to serve impacted residents faster, and will help when it comes time to bring that equipment back after the need is over."
I also had an opportunity to interview Alex Markowski, the assistant commissioner for logistics at New York City's Office of Emergency Management. Alex pointed out that while the city has had plans on the books for how to deal with a storm of this magnitude, there have been a lot of changes since the last time New York City took a major impact from a hurricane. "It's been nearly 80 years since the Long Island Express of 1938, and there has been a lot of buildings and infrastructure built in the affected areas since then." Alex continued, "The amount of damage we experienced will take some time to rebuild from."
And, how has it been having so many people in from out of town to help with the recovery effort? "We appreciate the help. It's great to have the experience and talent here from around the country, and we appreciate what everyone has been doing."
The Boston team will be leaving after Friday's shift, headed back to Bean Town. They will be replaced by a team from Texas, which will also eventually replace our Tampa Bay group as well.
For those who want to see how widespread the damage is in New York City and the New Jersey coastline, NASA has a page with some dramatic before and after aerial photos that can be found here.
And, New York 1's political director Bob Hart has been blogging about the storm from his home in the Rockaways. Some of the reports from the time of Sandy's impacts are hair raising…